Among its main characteristics, the polycarbonate has great resistance to atmospheric agents, behaves well against fire, and is high-impact resistant, an excellent flection module and thermal resistant.
The Macrolux thermic sheet is composed of a gray reflective exterior and an opal interior. The gray surface is composed of metallic particles so sun is partially reflected and partially transformed into energy that is absorbed by the thermic sheet.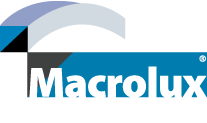 FEATURES
Available colors:
Gray/opal
Measurements
11900 x 2100 mm.
Thickness:
* 10 and 16 mm
*** Upon request ***
20 and 25 mm
NEW GENERATION POLYCARBONATE
Macrolux is a Swiss polycarbonate produced with the best materials for a lifetime guarantee. It is strong, easy to manipulate and install, and practically unbreakable. Its light weight represents considerable savings in terms of transportation, manipulation and installation.